Sahuarita Florist - Flower Delivery to Sahuarita
Florist Sahuarita Arizona
Luxurious, Upscale Flowers, Plants and Gifts
Mayfield Florist has been serving Sahuarita Arizona since 1982. We offer the finest, freshest, highest quality flowers in Arizona. Our floral design team creates unique, artistic, gorgeous flower arrangements, themed for all occasions. In the market for wedding flowers. We employ a team of wedding design professionals who can help you with every step of the process. The delivery staff at Mayfield Florist is second to none. They make daily delivery runs to all Tucson area hospitals, churches, funeral homes and mortuaries.
Local Same Day & Express Delivery | Nationwide Same Day Flower Delivery
Additional Information for Sahuarita
For additional details about our same day flower delivery service to Sahuarita and to view bestsellers for Sahuarita, please take a moment to visit our Sahuarita delivery page.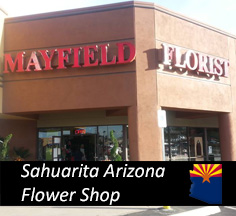 Serving Sahuarita
Sahuarita Flower Delivery Options
We offer same-day delivery of fresh flowers, roses, planters, cookies, and occasion flowers. Learn more about our Sahuarita flower delivery options.
Sahuarita Neighbors
Casas Adobes
Catalina
Catalina Foothills
Drexel Heights
Green Valley
Marana
Oro Valley
Rita Ranch
Saddlebrooke
Tanque Verde
Tucson
Vail