Testimonials
Customer Reviews and Testimonials
Don't just take our word for it! Read what our customers are saying about the floral arrangements we have created for them.
These are actual comments from real Mayfield Florist customers. We take great pride in exceeding the expectations of those we serve. Our firm stands behind every product that we design and deliver. In fact, we offer a full 100% customer satisfaction guarantee. If for any reason, you don't absolutely love the arrangement we have created for you, simply contact one of our floral design centers. We will replace that arrangement with one of equal or greater value, free of charge. Mayfield Florist has been voted "Best Florist in Tucson Arizona on numerous occasions, by a number of different business review sources. Our goal is to be Tucson's favorite florist for years to come !
---
Get your floral gifts here! Olin - sorry if I got the name wrong - was responsive and intuitive as I inquired about a birthday gift for my daughter. He tailored my order according to my budget and the floral arrangement that was delivered was over the top! He nailed it! The shop motto "REACTION GUARANTEED" hit the mark. Thanks Mayfield Florist, you are my Flower Shop in Tucson.
---
May 10, 2017
I called Mayfield from Alaska. Monica took the call. She was very pleasant. She made my phone order experience great. Her suggestions for a bouquet (given my limited spending budget ) were a home run!!!!. She suggested a designers choice arrangement. I wish I knew who the designer was, so I could mention their name on this review. My mother always sends me pics of flowers I send her. And when I beheld the arrangement and my mother's words in a picture text. I could not have been a more happier son at that moment. Thank you Mayfield :)
---
May 2017
My husband selected a flower arrangement from you that was spectacular! Flowers have always been a special gift but you went a step further by artfully arranging them into a beautiful piece of art! We cannot thank you enough for putting "special" back into flower gifts.We also enjoy the beautiful butterfly named Patsy that we will treasure! Thank You! Ginny
---
April 2017
Hey Don,
Just wanted to give you some feedback that you've got an excellent employee named Olin working for you. I just had an encounter with him and it was an experience I've never received with a flower shop. Kudos!Flowers by Mayfield Florist
---
October 2016
Dear Olin,
This is about you! We spoke on Tuesday, October 25, 2016. I live in CO and have a sweet Aunt Cookie in Tucson, so I Googled "best Florist in Tucson" and Mayfield Florist was listed. We had a wonderful conversation about Gerber Daisies and you recommended an arrangement for me to send. I spoke to my Auntie last night and she loved, loved, loved the flowers! Thank you so very much for your advice and the beautiful flowers! I will send her more and make sure I speak to you when I order them! Have a wonderful day!
Nancy Mohrlang,
Brush, CO
---
October 2016
I got married on Friday Oct 21st, and Mayfield Florist did all of our flower arrangements. I worked with Olin, the wedding coordinator, and he couldn't have been more helpful. I had some unique request, and he made sure that each and everyone of them were met. There was a small mishap with the flowers, and he rushed out to the venue immediately and help repair what was wrong. He stayed until all of the arrangements were placed and helped prepare every one of them. Not only did they go above and beyond in service, they went above and beyond on the price of everything making sure they stayed in my budget while providing me with everything I wanted. The next Saturday My Husband and I went back to get a flower arrangement to thank my Mother-In-law and received equally as amazing treatment from another employee. I will definitely be back Mayfield Florist... Til next time!!!
---
Just wanted to thank you for delivering an array of flowers to my sister's hotel in Tucson where she is celebrating her 70th birthday. I especially appreciate that the delivery person 'Paul' called me after the hotel my sister was registered at told him my sister wasn't registered at the hotel. She was. They blew it. But Paul called; we got it taken care of, and he kindly returned back to the hotel and delivered the flowers.
Best thing was that from the pictures and grateful response I received from my sister, the bouquet was really, really beautiful.
You did a fabulous job. Thanks!
---
Flowers by Mayfield Florist I want to thank you for fulfilling my order yesterday on such short notice that was delivered at the Tucson Rodeo office. Being out of the area and away from Tucson for so many years it is hard to randomly find a reputable and dependable florist. I lucked out finding you and again want to Thank You. I will keep your phone number now as I know I will use it again.
---
Barbara Breyfogle & Steven Breyfogle
I couldn't be more pleased with Mayfield Florist. After trying a couple other online and local florist, and being very disappointed and completely embarrassed with their product when it was delivered to my recipient, I returned to Mayfield Florist. I have sent flowers 3 or 4 times in the last year or so, and each time Mayfield Florist has come through. I told them what I wanted, what type of flowers or plants I wanted and what my budget was. Each and every time they came through as promised. No more disappointments or embarrassment, just a very satisfied and happy customer.
Thank you Mayfield Florist! I'm your customer for life!!
---
Dear Don,
I want to express a sincere "Thank you" from our family to Mayfield Florist and Cheryl, in particular, for sending such a beautiful arrangement for our father's ceremony on Saturday. Even our family who were on Skype commented on the beauty of the flowers.
---
We wish you continued success with your flower art!
Patti Deeg
---
I ordered a memorial spray of beautiful flowers for our fellowship to honor some very dear people. Raquel took my order, and was very patient, as I described the colors, etc and what I wanted to express. I was very pleased with what was created, and very relieved also. I ordered flowers once through FTD, through another shop and what I got wasn't anything like the picture. That may have been an isolated incident but nevertheless, I wasn't comfortable about ordering sight unseen. Thank you Raquel for your excellent help, patience, and professional excellence.
Shirley in Tempe
---

My son ordered a beautiful arrangement of roses from you which was delivered yesterday and they are absolutely gorgeous. Your delivery man was gracious and your service is the best - I will recommend you - thank you so much, Sylvia Burton
---

I had a last minute order this morning for my mother for Valentine's Day and they were able to add yellow roses and deliver the same day! My husband also had roses delivered to me when I was upset the same day I called him crying. Mayfield florist is constantly impressing me and I will continue to use them. I love the bouquet I picked for my mom and I love the service.
---
Dear Don,
I live in New York so upon my daughter Laurie Wetterschneider's recommendation, I called your shop and spoke with Racquel(hope I've spelled her name correctly), who was just wonderful to deal with. I wanted to send an arrangement to Laurie's husband as he is just home from the hospital. They were absolutely thrilled with it and e-mailed me a photo. Racquel did a spectacular job and I thought you should know how pleased we all are.
Warm wishes,
Linda Nelson
---
Thank you to Raquel who graciously took my phone order this morning. She was very pleasant, helpful, and patient. Her kind assistance was much appreciated. Additionally, I can't imagine ever using another florist - Mayfield always provides excellent service, exceptional quality, and gorgeous arrangements!
---
Much Thanks, Michaela
I just ordered a funeral arrangement over the phone and dealt directly with a young lady by the name of Raquel. She was extremely patient, helpful, and went out of her way to make sure that the order was as special as our loved one.
You are very lucky to have such an amazing young lady as an employee. Thank you Raquel, Mayfield Florist in Tucson should be very proud of you.
Raquel was one of the most helpful and courteous person I have worked with in a long time. She took her time to walk me through the various pages of arrangements and then suggested the basket of flowers that I ended up ordering. Her help and enthusiasm was very infectious. Thank you Raquel.
I came into Mayfield looking for Sea Holly to put in a flower arrangement for our anniversary. We had first seen this thistle at a flower stand in Paris, both of us really loved the way it looked & my husband tried to grow some from seed, but too dry and not enough sea breezes for it here. We had seen some in California at a flower shop there, so we knew it grew in the states, as well.
---
When I was talking to Greg he listened to my story, and said he had some blue thistles just in and he went to the back and brought one stem of them to me…They were exactly the same as what we had seen in Paris, but somewhat smaller…So he let me pick out some other flowers to go with, and here was the result:
We are thrilled with it and it will make our anniversary dinner extra special, as my husband, who is a chef deluxe, is fixing us a special French meal tonight, so we will dream of being there until our next trip across the pond…
Merci!!
Chris B.
---

Olin, I just wanted to thank you for the incredible flowers for all the locations/events honoring our dear Anna on Monday. You did a superb job carrying out the "vision" I described to you for each and every arrangement; in short, everything was perfect. In addition, your service was second to none -- your driver even volunteering to transport the 2 heavy arrangements from the church to the Arizona Inn for us. This was of immense help as all of us went directly to the cemetery from the church and there was no one to transport the arrangements to the Inn and leaving them in a hot vehicle for more than an hour was not an option.
Thank you, again, Olin for your help. Your interpretation of what I wanted was perfection! The flowers added greatly to the beauty of the remembrance and Anna would have loved them.
Best regards,
Rhonda R.
---

Mr. Coleman,
Let me just take the time to thank you and your team at Mayfield Flowers. I sincerely appreciate the effort you all made to deliver my Mother's flowers on Friday and I truly appreciated the personal phone call today from a very nice lady to inform me of the successful delivery.
Over the years I have had hit and miss trying to have flowers delivered to my, Mother, in this case, your team did an excellent job, and your customer service is truly outstanding! Keep up the great effort, I will definitely be a repeat customer, all my best to you and your team at Mayfield Florist!
Cisco
---
As most would know, the funeral for an unexpected death is a stressful time. When we talked about an arrangement for my brother's funeral, you gave me your full attention and made many useful suggestions. I did explain that daffodils have great significance in my family and requested those as the feature flower. When you called me on the morning of the funeral to say you could not get useful daffodils, I was crushed. But you went on and said you would search for something similar, perhaps narcissus. When the arrangement arrived it was perfect! Although I could have wished for daffodils, I could not have wished for better or more service and thoughtfulness. Thank you so much.
Kendra M.
---
Just want to say "Thank You" for taking that extra step by calling me the day my daughter and grand daughter's flowers were delivered. Than meant a lot to me. Being so far away I am never quite sure if things get done properly. Your florist has always been extra special to me and my family. You have gone out of your way several times to make my "flower deliveries from a distance" very special and always right on target!!!
Your flower arrangements have always been "just what I have ordered" and special arrangements such as I ordered this past Mother's Day for my grand daughter was just exactly what I thought I was ordering from "a picture"!
You and your staff are very special to me and I enjoy doing business with a business who takes that extra step. THANK YOU!
Georgiann H.
Ventura, CA
---
I recently had a death in the family and Angel valley Funeral Home was taking care of the services for us. We lived out of town so I was using the internet to help with arrangements. Mike had told me to go to his website and order flowers from Mayfields. The link I clicked on evidentally took me to another site and the flowers that were recieved were not at all what I wanted or had ordered. The service was in less than an hour and Mike immediately called Mayfields and within an hour there was the most beautiful bouquet delivered for us to use for the service. I cannot thank you enough for helping to make our celebration of life what we hoped that it would be.
Sincerely, Terri M.
---
I can't thank you enough for the fantastic job you did yesterday. From beginning to end the entire experience could not have been better. My friend, Pat Rekerdre, was absolutely blown away by the arrangement and told me that the fellow (Michael) who delivered the flowers was wonderful. Michael, you must be a very special person. As much as Pat raved about the beautiful arrangement, she mentioned how thoughtful you were at least ten times. You have all gone beyond the call of duty and I thank you with all my heart.
Happy Holidays
Mary McEvers
P.S. Your web site is great. Having pictures where you can actually see what your sending (I live in Phoenix) is really helpful. And getting a confirmation of delivery is perfect.
---

To Don and all the staff,
I am happy to help! I have used your services exclusively for over three decades and always recommend you to everyone when we talk flowers Everyone for every reason I've ordered or sent flowers has always been delighted with the service and the flowers. I have always said you are the best in town and you have always proven so in serviice, design, dedication, and delivery. Keep up the good work.
Sandi R.
---
I just wanted to send a quick note in to thank you for the beautiful arrangment that I sent my Mom for her birthday! I live in San Antonio, Tx and ran across your website after searching on Yahoo for a local florist. I read your customer testimonials and knew right away that I was choosing one of the best florists in Tucson! I quickly found your arrangements to be very bright & gorgeous and decided on the Artful Elegance bouquet because of the blue vase and flowers.......which happen to be my Mom's favorite color!!! I placed the order at 6:13am your time and my Mom just called me at 12:32pm your time and said that she loved the flowers and balloons that they were "breathtakingly gorgeous", she just sent a picture and I have to agree they just might be prettier than the picture on your site!! Thank you for providing such beautiful flowers, in such a timely manner and making my Mom's birthday special. She is in the hospital right now so I figured some bright and beautiful flowers would at least put a smile on her face, thank you so much for making my plan work!!! I will definately use you again in the future as the majority of my family and friends live there. Knowing I have a reputable florist "waiting in the wings" is very comforting........you have just gained a new life-long customer!!! Thanks again!!!
---

"My family has used Mayfield Florists for a variety of services over the past few decades, and never have been disappointed. These services have ranged from Funeral arragnements to the interior home decorations for the Christmas holidays. The professional approach and attention to detail to our needs has always resulted in a product that has met or far exceeded our expectations." C. R. Harwood
---
Sometimes life throws you a curve ball. At 4:45PM Arizona time someone I care deeply about got hit with one. Living in Oklahoma City, I couldn't be there to be a shoulder. Most florists would just laugh if you called at that hour asking for a delivery. The lady I spoke with, I'm pretty sure she could tell I was doing my best not to be bawling on the phone (I'm so sorry I didn't get her name). She was SO polite, she moved mountains for me. The roses and bear were perfect. Down to the purple sprigs, that I didn't even expect, which that color has some special meaning to the recipient making it all the more perfection. What an amazing job you all did. I thank all of you there - the delivery person, the arranger, the manager who okayed such a late delivery and most of all the wonderful woman who took my order and when I said 'Just find the cutest bear you can find.' she did. You all went above and beyond - and from the bottom of my heart I thank you.
Sincerely,
-Paul Klassen
---

To Don and Staff at Mayfield,
Over many years, whenever I would place an order with Mayfield, I always felt a tremendous sense of confidence that my requests were well taken care of. From when I placed an order (usually through Olin, my enthusiastic advisor and consultant) to when it was delivered by gracious delivery folks, I was totally delighted.
The outstanding service, the consistent attention to detail with beautiful creations and the generous ways in which customers are treated all amount to a memorable experience and one which I truly appreciate.
Sincerely,
Nancy
---
Thank you for your wonderful service!
I called your toll-free number from MN on 6/24 and Lainie (sp?) assisted me with an order to my sister,
Alberta Teale, at Tucson Medical Center. Lainie was delightful, helpful, creative with ideas and followed-
through with prompt emails for the order and again once the delivery was made.
My sister loved the combination of fruit, chocolate,cheese and crackers, and an azalea plant beautifully
presented. She said the strawberries were the best she and her husband had ever had!
I have unfortunately become so cynical about many kinds of services today, because of past
experiences. Thank you for reminding me that some people still take great pride in their business.
It doesn't appear that you deliver to Green Valley. If you do, I would happily send gifts from you in the
future. Continue your stellar service.
Best Regards, Kathy
---
I live in San Anton TX and in support of Arizona I called direct to order Mother's Day flowers for my Godmother, Linda Bass. She loves the flowers and said they are so beautiful and on top of that, she had received a call asking if they were OK. THANK YOU so very much for the great service. I will continue to support Arizona and will use your florist in the future when sending her flowers.
God Bless
Diana J
---
I ordered flowers for both my mother & my mother-in-law in the last two weeks, & as always they were so beautiful that they couldn't say enough! Thank you for great service. Being out of state, I never have to worry about my Moms as long as I'm ordering from you. You don't have to worry about me going anywhere else for flowers. Too bad you don't sell everything else!
Thank you again- Julie S Hixson, TN
---

Please let the florist who arranged order number 01009410 delivered this morning to Bonnie Houlton at St. Joe's know that they did a great job. My Sister called me this afternoon to let me know the flowers are beautiful and she like the blue vase because she collects that type of glassware. Great choice. She named off the many flowers in the large bouquet and assured me they did brighten up her room.My telephone order was handled in a very professional and friendly manner and I was impressed with the promptness of the delivery. I don't order online anymore after my credit card number was used by someone else. Very disappointing since that is an easy way to do business, but not very personal. Nothing like taking to a real person.
Keep up the good work and I will certainly recommend Mayfield Florist to everyone who is looking for value for their money and excellent service.
Thank you so much.
Judi B
---
Dear Iris,
Last weekend I experienced an answer to prayer. After seeing how the ladies were decorating their tables for the holiday luncheon, I knew my skills were seriously lacking.
I stepped out into the hall with the telephone in hand; said for help and God sent me an angel. Iris M.
Thanks to you, my table was beautiful. The centerpiece was awesome, the tablecloth looked so elegant and I had compliments galore with the ladies all wanting your name for future events! I'm overwhelmed by your talent and generosity. Thanks so much for coming to my rescue.
Bobbie
---
Don,
My fiancée absolutely loved the roses arrangement (Passion Cube) I purchase from you for this Valentine's Day. Thanks for helping me score BIG with her today! :)
Many Thanks!
Eugene "Killer" Edgerson
Harlem Globetrotters Go Cats! ( University of Arizona '96-'01)
---
Mr. Coleman,
The residents and staff of Devon Gables thank you for your generous donation of poinsettias. Many residents and families commented and asked, "Who provided those beautiful plants?" We are grateful to those in the community who do not forget those living in care center. It may not make newspaper headlines as some volunteerism efforts do but be assured, we are so grateful for your "caring."
Sincerely, Florence Hartung & residents of D.G.
---
Dear Mayfield Florist, (especially Olin)
Thank you for the lovely floral display you arranged for Walt Holmes' funeral. We were very pleased with how it turned out. I noticed also that you used a very nice looking vase, which I'm assuming was more expensive than the black one we had discussed. Thank you for your generosity. We look forward to doing business with you in the future.
Sincerely,
Mary L.
---
Mr. Coleman,
I wanted to let you and your staff know what a wonderful job you did. I am in Baghdad, Iraq and had ordered flowers on-line for my wife's birthday (May 16th). Every detail was perfect and the arrangement was absolutely gorgeous. Thank you all for helping me do what little I could, considering my circumstances, in making my wife's special day just a bit brighter.
With much appreciation,
Mike
---
Just had to let you know how thrilled my Mom was over the flowers she received on Mother's day. Here we are two weeks later and she is still raving about them! Olin took my order over the phone two days before Mother's Day. I had chosen a "pre-packaged" arrangement online but told him about a themed PowerPoint I was sending and he quickly made suggestions that matched the arrangement to the PowerPoint. He even helped me formulate the right words for the card! Overall, friendly service, spectacular product and speedy service. I'll never use another florist in Tucson!
Sincerely,
Dawn R
---
"We have used Mayfield Florist many times for several occasions. A few days before Mother's Day, Mayfield delivered a beautiful arrangement to my mother…..but several of the flowers died the very next day. I called Mayfield the Monday after Mother's day and reported this sad event, and they handled beautifully! There were no questions or even discussion…they immediately delivered another arrangement with sincere apologies! It was exactly what I wanted them to do-but sometimes people don't react just how I want them to! I will continue to be a loyal customer. Thank you, Mayfield! I appreciate your customer service – it truly is service to the customer! A rare experience these days!"
Nikki D
---
Dear Mr. Coleman
I just received a message from my sister-in-law saying "Grandma Teddy just received the most beautiful flowers ever…"
These flowers will most likely be the last our ninety-eight year old grandmother ever receives. Thank you for taking the extra effort to ensure that they were perfect, beautiful, and grand! It means a lot to all of us!
Please extend my gratitude to Laurie who took my order. She understood the importance of the order, was very polite, patient, professional, and kind. I appreciate her time, effort, and assistance. You can be sure that I will call you with all future orders as well as recommend you to all our friends and family in Tucson.
Respectfully,
Christine C
---
I would like to thank you for the great customer service I received from Olin when placing my order. I had been on-line twice and made two phone calls to Casa Adobe Florist and the only way they could accommodate my order was if my daughter could pick it up before closing. My daughter told me the Arizona-Sonora Desert Museum used you as their Florist so I decided to try a 4th time. My daughter loved the flowers. Thanks again for the great service.
Gail D
---
Thank you so much for your wonderful service. My Dad received his fruit basket in good order and was so pleased with the quality and was very happy with the selection. As I live in Canada, it is difficult for me to know what company in Tucson to use for when my Dad is visiting and I researched the different places available for this service – the customer comments on your website made me think you were the right company for me and then when I called and had my order handled with such courtesy and personality – I was 100% sure I had chosen the right one. I was right! Thanks again and look forward to doing more business with you all in the future, as we have family friend in the area as well.
Thank you!
Regards,
P. Mann – Victoria, BC, Canada
---
Don
Once again you and your company has amazed me, and my girlfriend on the quality and the timely delivery. Thank you very much for the excellent service that you and your company provide. Its more than a pleasure to do business with you guys,
Truly Yours Anthony F (the Crazy New Yorker)
---
Mr. Coleman
I ordered two funeral arrangements from the website on 12-29-08. Your website is very easy to use. I am specifically writing, however, to let you know how helpful the folks were when I called for questions. I just called the help number on the website. (I am in Tucson if that helps). I spoke with two different women – one was Rosalie and I don't remember the second woman's name. Both women were helpful and efficient.
All in all the ordering process was great. I can't speak of the actual flowers and cards at this point but I am confident that they too will be done well.
Please pass this on to whoever should see it. I always think that a job well done should be recognized. Thank you,
Leslie H
---
I just want to say a big thank you!! My sister in law Pat phoned tonight (Sunday UK time) and said the flowers were beautiful. She knows your store well… apparently she used to lived nearby at one time and often used your services; also my mother used to love going into the store when she visited Tucson in the 1980's (from the UK)! Long time ago, but good memories never fade!! Once again, thank you.
Georgina T.
---
I love you guys and thank you for always being there for me and my family.
Lynn
---
Dear Greg,
Your presentation on the flower business at our Colonia Verde Club House was not only informational but also a real pleasure. Not only that, but each of us also got to take home a bouquet made up by you personally! What a wonderful time we had. In the name of The Colonia Verde Women's Association I would like to thank you for your time and effort.
Helga W.
---
Dear Misters Coleman,
On behalf of the Tucson Association Ensemble, the Ensemble Committee and myself, I wish to extend our most sincere gratitude to you for your assistance with the flower in the upcoming event. I was given this assignment late, and you have responded, not only expeditiously, but also generously. Because of businesses such as yours, the music and arts community in Tucson is able to thrive and contribute to the nurturing of the people here. Your continued service and contribution enhance this and make it not only possible to accomplish such goals, but to provide a visual and supportive image to the general public, which in turn, inspires people to further pursue musical and entrepreneurial pursuit.
We are most grateful to you for all you do, Thank you kindly.
Sincerely and Respectfully,
Dr. Kim H.
---
Hi Don,
Thank you so much – I was shocked when not too long after placing my order (a couple of hours?) my mother called to say thank you for the gorgeous arrangement. What great service! I grew up in Tucson and plan to be back again someday soon so I will definitely use your services again.
I googled florist in Tucson, say your convenient locations and then checked out your website from my iPhone this morning. I already knew what to order when I got to work and quickly placed my order on your excellent website, which was followed by a prompt delivery. Bravo! Making other people's crazy lives easier makes for a successful business. I wish you the best!!
Many Thanks!
Karen F
---
As you re-group after this your busiest holiday, may I compliment you again on your product. I was the recipient of several floral designs from your Tanque Verde shop and as a former floral designer I am very critical about not only the design but the freshness of them. You surpassed my expectations yet again.
Thank you,
Jeanne
---
Thank you!
Please let Greg know that he exceeded my expectations! The floral arrangement was AMAZINGLY GORGEOUS!
Thanks!
Happy Valentine's Day!
I hope you all don't work too-too hard today!
Warmest Regards,
James T.
Director of Event Technology
---
JW Marriott Starr Pass Resort and Spa
I ordered flowers to be delivered on Sunday January 6, my 51 anniversary to my home an Canyon Ranch where you have delivered many times before. I started out with Red Gerbera roundup as was switched to some red, some orange cause you didn't have enough red. After help from Nancy I was left with 50 red and 1 yellow rose in a square vase.
They are absolutely magnificent!
Of course they are prettier today than Sunday. The vase will go out into the garden and I am a total hero. Thank you so much,
Jerry N
---
I wanted to thank you so much for the beautiful basket that was delivered New Years Eve. It was very last minute and the girls were so helpful going out of the way to ensure my holiday basket would be delivered. I called at the 11th hour and one of the girls even said she would deliver it on her way home!! I have used Mayfield for years and this is why!!! When my family received the basket (my mom used to be a florist) they all called to say how beautiful and thoughtful it was. I just want to say I am forever a loyal customer and this is why. The service is the best and flowers are always perfect!!
Thanks again,
Sincerely,
Deanna C
---
Dear Mr. Coleman
I've been a customer of yours for a couple of years now and I just wanted to extend to you and your staff a sincere "Thank you". I live in Kansas City and order online. My girlfriend has always commented to me on just how beautiful her arrangements have been. Since I ask that the arrangements be delivered to her office, her co-workers have asked her where is she getting these "fabulous flowers". Yesterday's delivery of the Gingerbread House actually motivated a co-worker to check-out your shop.
Again thank you and your wonderful staff for producing such beautiful arrangements with careful detail and timely delivery.
Sincerely,
John D
P.S. The postcard reminders are appreciated.
---
Dear Mayfield Florist.
Thank you for the wonderful arrangement Olin had sent to my mom for her b-day!! What a success, she says this is the prettiest one yet (she says each time- a big compliment to you there!!). And Olin was very personable and helpful over the phone! I appreciate doing business with you!
Brooke C
Irvine, CA
---
Dear Kelly and Greg,
What a delightful open house---and I'm not just saying that because you picked me to win a great door prize…or because you sent me off with a goodie bag full of wonderful fragrances..or because you sold me a gorgeous, healthy house plant that just might survive my TLC…or because you ruined my dinner with delicious punch and divine homemade cookies…or because your party kicked off the holiday season with a bang.
I was all of those thing and more…THANK YOU for everything.
Nancy
---
Dear Mr. Coleman
The Karrasch family in Reno, Nevada received the funeral arrangement in time for the services. I felt it was important to let you know that they called me the next day to say that it was the most beautiful arrangement they had ever seen. Their friends all wanted to know who the florist was. I can't thank you enough for your assistance in turning what was a sad occasion into a beautiful one, especially since could not attend. I would also like to say that your employee Hannah was polite, responsive and very helpful.
Sincerely,
Robert B.
---
Don
Thanks so much for delivering what you promised. I needed to send my niece something special. She just started a new job as a school teacher, which is a very noble profession, she is type of person who changed lives, she attended college right there in Tucson, just graduated this year and now just got engaged this past month already planning a 2008 wedding.
I am so glad that you helped make her birthday so special when I couldn't ne there to spend some special time with her.
Thanks
Tara
Edgewater, FL
---
I wanted to let you know how much my Dad loved the flowers! He said they were absolutely beautiful and they made his day! When I told him you had told me that you'd gotten fresh sunflowers in yesterday and that they were gorgeous, my dad said, "Well he wasn't lying!" He even mentioned the pretty lavender flowers you added to make the arrangement even more beautiful.
Thank you not only for the flowers, but also for your kindness and patience on the phone yesterday. I enjoyed chatting with you and knew we were in good hands! Thanks again for everything you did to help me and to brighten my dad's day with the beautiful sunflowers!
All the best,
Andrea
---
Just want to compliment you and your delivery person on a job well done. My Mom was cheered up by the little red fire truck arrangement and the chocolates she said the delivery man was so nice and the arrangement the cutest thing she's seen. I live in Florida so it is nice to be able to cheer her up on her 91st birthday.
Thanks,
Ida
---
Carol received the flowers and just gushed over how beautiful they are. Thanks, I wasn't sure what I was really going to get buying them online, but they were perfect hit and I thank you. When I told my mom I had found you online, she said that you are one of the best in Tucson…great accident on my part, but thanks for taking care of such an important order.
---
Dear Mayfield Florist,
My mom loved the fruit basket. She must have told me a million times on the phone how beautiful it was and how delicious everything was. She also liked the dried cranberries that were in the basket too. My mom also commented on the delivery person. She told me he was so nice and friendly. She recently had surgery and could not carry the basket in herself. When she asked the gentleman to carry it in for her, he was more than happy to do so. Thank you for helping me make my Mom's Mother's Day just perfect. Since she is so far away it is nice to know that someone delivered her gift in the same happy cheerful way I would if I was there.
You are the best.
Thank you again,
Janet L.
---
Thank you very much for the great service. My mother said the flowers are absolutely beautiful and has called me at least once daily to tell us how much she loves them. I appreciate the recommendation, the prompt delivery and the fantastic service.
Great job! You've got a customer for life!!
Thanks!
Scott
---
I just wanted to say Thank you for making my flower order so nice – I sent flowers to my sister as a little "Thinking of You" on march 8th; she is in Tucson and I am in Buffalo, New York. I found your website on-line when I searched Florist-Tucson. She said the flowers were absolutely beautiful!
Thank you so much for your same day delivery service as well.
Sincerely,
Laura W
---
Dear Mayfield Florist,
I just wanted to send my Thank You's to your professional company. My brother and I live in Pittsburg PA and our sister live in Tucson AZ. She just has surgery and she came home last Friday. My sister said the flowers "were beautiful" and she cried when she got them.
Your website is beautiful and professional and the service was outstanding.
Thank you Mayfield Florist!
New customer in Pittsburgh!
---
I just wanted to say thank you. Yesterday my coworkers and I collected money to buy flowers for another coworker whose father had just passed away. I was really worried that being Valentine's Day we wouldn't be able to get flowers delivered. The flowers we ordered got there quickly, though, and they were beautiful.
Thank you,
Nicole M.
---
Dear Don,
I'm writing you regarding the service I experienced yesterday, Tuesday, February 6, at your Tanque Verde/Sabino Canyon Road shop.
I rushed in at 5:00 because I'd just received a phone call from my son in college in California, that a dear high school friend of his had been in a devastating car accident over the weekend. While she survived, a person on a motorcycle in the lane beside her, did not.
My son was so worried about this young lady and begged me to "go to Mayfields and send her sunflowers".
When I arrived, very disturbed and distracted, your staff treated me with such warmth and compassion, I felt as though I were dealing with close family friends. Not only did the salesperson (a short young lady with dark black hair) listen as I explained what had happened and the delivery man offer sympathetic words, but they even offer suggestions on which teddy bear to include. I was shocked when the salesperson offered to wrap and include in the package the DVD I had purchased elsewhere! What a presentation she created to help soothe my son's friend. To say I was grateful, touched, and impressed is an understatement.
I want you to know that you have cultivated a business and staff that is more than a part of Tucson's economy. Mayfield's is more than a caring member of our community, more than a neighbor—Mayfield's is family.
Thank you to your staff for conduction themselves in such human manner. They really were exemplary on every possible level.
Thank you very much.
Joan Z.
---
Been doing business with you guy's for a while, always get rave comments from home.
Thanks
Del
---
Hey folks,
I just wanted to thank you and let you know how pleased I was with our recent transaction. Although it was small, it was important to me. Ordering was very easy and straight forward on your website. Delivery was made the next day as promised by a very personable, professional guy who called ahead to make sure that the recipient was home and expecting him, and arrived on time with a smile on his face.
I was also told that the roses were fresh and perfect, a very nice arrangement, the note was as had written it (there was a bit of disagreement over the snoring part! Not your fault) and the included preservative and instructions were a nice touch.
It was certainly a pleasure doing business with you good folks and you have earned my repeat business.
I also own a reatail store and know how few and far between the letters of thanks you for a job well done are. Mom and Pop stores, like yours and mine, hang our hats on outstanding service; it's all that separates us from the big box stores. And there are times that the nitty-gritty may get us down but you won this battle. It's worth it!
Thank you.
Regards,
Henry W – Fulton NY
---
My daughter called and expressed her joy and appreciation for the planter you made for her. So, I'd like to convey my appreciation for your support. It's really nice to work with you. We'll do it again.
Thanks,
William
---
Dear Mayfield Florist,
Well, I don't think I can say anything more than hasn't been already expressed in your current testimonials….I ordered a "Designer's Choice" for Mother's Day and my mom was overwhelmed with the beauty, quality and presentation. And this is well traveled woman with access to the finer things in life! All I can say is "THANK YOU" and encourage you to continue to excel in your craft as it is sincerely appreciated.
Jon F
---
Don
As always, ordering from you folks is very easy and supported by many great options. My wife received the bouquet of VERY Beautiful Roses at work, early in the day and was so excited, she called me at work right away. It was "perfect timing" and as I saw when I arrived home, a VERY GOOD job in presentation also.
Mayfield Florist remains my 1st choice when it comes to ordering floral arrangements!!!
Thanks for a job well done and in such a timely manner.
Fred H
---
Dear Mayfield Flower Designers,
Thank you for delivering a beautiful bouquet of roses to our Mom!! We really appreciate your service, expertise and talent for making your flowers a beautiful gift! Thank you again!
Angie Collins
---
Greetings Mayfield Florist:
I would like to take this opportunity to express my sincere thanks and gratitude for the flowers you delivered to my wife for our anniversary. I ordered a dozen roses, they were delivered on time, and in a very nice basket. These roses are, by far, the nicest roses I've ever purchased. Six red and six pink. Very long stems too.
I recently switched to Mayfield from another large franchise here in Tucson. The firs flowers I purchased from Mayfield were very nice also. And, the email received stating the tracking number and confirmation was appreciated too. You have earned a loyal customer, and again I would like to thank you for our anniversary roses.
Please thank the staff for the wonderful job they did.
Sincerely,
S Harris
---
Thank you for the beautiful Christmas arrangement in my Waterford vase! I love it!
As always, you guys did a terrific job…and on short notice.
Thank you!
Rochelle
---
This is the first time we have used your service. We have to let you know that you made the recipient's "day". Las week our friend (whose birthday was today) found out she had to fight cancer (a second time) the last time was 32 years ago. You made her day when you went out of your way to make sure she got the "best" cactus anyone could receive.
We just received a "happy" phone call telling us how beautiful the cactus was. Our friends decided to retire to Tucson from Iowa…away from family and friends two years ago. Now they are facing Lympoma… Thanks to you…the delivery was a "happy" occasion. It brought our friendship closer than ever…THANK YOU.
Thanks for making our friends "feel special" on such a mixed day.
Leonard O.
---
Thank you so much for the lovely plant arrangement. When I went to the funeral home…it was very beautiful and appropriate. I guess that's why k keep coming back to your company. Great service, great arrangement!!!!
Thanks again…
Rita Z
---
Great Job! I just had to let you know that every time my mother receives arrangement from you- she raves about them. She always tells me how fresh and beautiful they are. Thank you so much for your reliability. I know when I order form you, she will be thrilled.
Happy holidays to all of you!
Debbie
---
My mom called about an hour ago to let me know how beautiful the roses were---she did not realize it was going to be Grandparent's Day. It is hard being so far away (Montana) and ordering from a business, but your company has never disappointed me —Thank you!!!
J'Neanne
---
You guys are awesome!
I ordered flowers on Saturday evening, and you delivered then on Sunday morning right before a holiday!
Your extra effort made someone close to me very happy.
Thank you very much.
Stephen
---
Just a note to say how much I appreciate your services and professionalism. Living in Missouri with parents in Tucson, I have used Mayfield on numerous occasions, with no problems and with great results. You all are definitely doing it right!
Robb
---
Dearest Kelly and Greg,
Congratulations for being one of the most wonderful and loved families in Tucson. We recently saw on the TV information regarding the blood drive you held in Sean's honor and cannot thank you enough. You are all such wonderful people and I thank God all the time that all of you are my friends and never forget those so much more unfortunate. Sean is adorable and what a true picture of a miracle. This reminds of something Pat would have loved to do and we always feel her presence especially during the holiday and January season.
God Bless you all and we are proud to know you.
Love,
Jim and Lynn K.
---
I just talked to Mom and she said the azalea was beautiful!! Thanks so much for your high quality in flowers and service. She was also very appreciative to the delivery person's willingness to deliver straight to her door. Since she uses a walker, she can't carry them herself. Thanks again for that extra bit of service.
Sincerely,
Chris
---
I appreciate the opportunity to use your web site to order flowers for my Grandma's 90th B-day!!! It was the best experience I have ever had ordering anything for someone out of state. I especially loved the tracking system. I knew exactly what phase my order was in. I was even able to stay in my budget!
Thanks for a great job in helping me honor my Grandma on her special day! She said they were beautiful.
Sincerely,
Patty
---
We have, of course, dealt with you fine store for about 25 years, but this was the first time I used the online ordering service – I tried it just to see how it worked. And, BOY! – I am more than satisfied. I clicked my way in not too long before your noon deadline, and the flowers show as delivered (on you website! Wonderful means of communicating delivery!) at 3:44 this afternoon.
You just can't beat that kind of service, and this confirms, even more than ever, that we will continue to work with your fine establishment.
Many thanks-
Sally
---
A few days ago I sent some roses to my sister in California through Mayfield. She received them and remarked that they were both beautiful and in very fresh conditions. I just wanted you to know how pleased I am with your service.
Paul S
---
Thank you so very, very much for the confirmation of the order being delivered. That is such a great service, especially when we were ordering from out state. And it was so nice to be able to go into your website and check on the delivery and find out what time it was delivered. I'm glad I chose Mayfield Florist for my Tucson florist. I've never even been to Tucson so I was making my decision on what you showed on you website and it proved to be very truthful!! What a pleasant experience.
Penne
---
Thank you for brightening my mother's day with the beautiful arrangement. She is absolutely thrilled with the unique arrangement and quality of the flowers. Ordering over the internet, with an unknown florist, is always a risk. I will certainly remember your name the next time I need to order in Tucson.
Mary R.
---
My daughter Heather has already received the flowers. She tells me that they are beautiful..
Thank you so much for making her day special.
Karen L.
---
I love being able to call you or order online-whichever I choose I am never disappointed. I just talked to Lori and ordered something for my sister and know she will take good care of me as always. Thank you so much for your excellent customer service and for the beautiful arrangement that you always send for me!
Shelley
---
Flowers were ordered from my son for my birthday. Seattle to Tucson The flowers were delivered to my work and the delivery person was told that I had just left for 10 days vacation. He asked when I would return and took the flowers back and delivered them to me today, my first day back to work. What a wonderful surprise. I will be telling all, here at the RV Resort and my son for sure who hoped someone enjoyed his mother's birthday flowers. Your staff and company has gone above and beyond. Thank you.
JoAnn
---
Just wanted to say how much I appreciated your delivery service done on Mother's Day. The plant arrived in good shape I will continue to use Mayfield's florist because of their genuine care to their customers. Keep up the outstanding customer service and I will recommend prospective customers to Mayfield's florist.
Robin
---
I just wanted to express my appreciation for the quality of service and product you provided me. I am an Air Force officer stationed in Cheyenne, WY and my girlfriend lives in Tucson. I ordered roses online for her at 2:00 a.m. on Saturday morning and they arrived at her house in immaculate condition at 2:00 p.m. the same day. I made her day and allowed me to express my love from so far away. Thanks so much for your service…you will be my only choice in the future!
Chad
---
Just wanted to let you know that the flowers I received 4/10/03 were great and they still are!!! Yes, I did receive a care tags and enclosure card was signed and addressed. Delivery people were great.
Thank you.
Elanor
---
I want to thank you and the designer and everyone at Mayfield for helping me make my mom's 75th birthday all that more special. She loved the flowers/arrangement and said they were absolutely stunning and the delivery person didn't give it away until the final day as promised.
Thanks!
Jonathan
---
Thank you so much for the flower delivery. Our son and daughter-in-law were thrilled and said that the arrangement is gorgeous! We'll do this again!!
Mary Ellen
---
I was sitting here at my desk looking out the window a lady carry a beautiful floral arrangement into the building. I took a note of it because of the striking colors and thought aren't they lovely. Someone is going to be surprised.
Well my phone just rang and that lovely arrangement is now sitting in front of me and oh yes, I was surprised! How very, very thoughtful of you and the chapter.
Flowers mean so much and this arrangement is absolutely gorgeous that I need to share it with you. I has several stems of magenta orchids, tiger lilies light pink and yellow leaves, tall deep purple flowers (don't know what they are, but they're beautiful) along with several types of fern all surrounding several large fucha stargazers and buds. It's just perfect and I can't thank you enough for your thoughtfulness.
I'll get a card of the chapter, but in the meantime, please convey my sincere thanks and appreciation.
Irene
Local Flower Shops
Stop in and visit one of our locations listed below: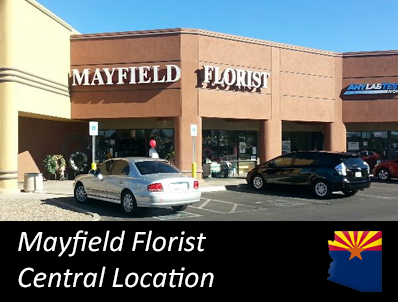 Central Flower Shop
(520) 327-3987
1610 North Tucson Blvd
Tucson, AZ 85716
Get Directions »
Eastside / Foothills Flower Shop
(520) 202-9410
7181 Tanque Verde
Tucson, AZ 85715
Get Directions »