News and Media
Mayfield Florist Press Releases
We share information about our business with news and media outlets. The press releases below provide more information about events Mayfield Florist has participated in, new services or programs we are offering and other news worthy subject matter, pertaining to our organization.
---
News Release Archives
---
The Latest News From Mayfield Florist - Voted Best Florist in Tucson AZ
News Release - April 18, 2018 (Don Coleman & The Centurions Hosting Tucson Fundraiser)
The Centurions will host the Tucson community for A Splish Splash Beach Bash on May 5th at Kino Sports Complex. Our annual parties are known as much for the fun as for the funds they raise for our community. We average 5,000 guests each year with hundreds of businesses sponsoring and providing prizes for our event! In our 49th year, we are the biggest and best fundraiser in Southern Arizona!
The Centurions of Southern Arizona Charitable Foundation is a 501 (c)3 charitable organization supporting a wide range of charitable organizations and projects in Southern Arizona. The Centurions membership of 100 active members includes many of Southern Arizona's most prominent business and civic leaders. Originally founded in 1968 as an associate support group of St. Mary's Hospital, the Centurions name was chosen to honor the one hundred years of service given to Southern Arizona by Carondelet St. Mary's Hospital. The name further reflects member focus on business and civic leadership with the historical reference to the Roman Centurion, a leader of 100 soldiers.
Our Mission: To support Southern Arizona charities that provide services to underserved community members in the areas of healthcare, education, and mentorship with an emphasis on improving children's lives.
2018 Grant Recipients:
· Boys & Girls Clubs of Tucson
· Boys to Men Mentoring
· Youth on Their Own
For those of you who can't make the Event
"The Endless Summer Raffle"
This year's primary beneficiary, TMC for Children, is comprised of 107 pediatric beds throughout the general, intensive and special care units. Each area is equipped with state-of-the-art technology and staffed by highly-trained personnel, including registered nurses, child-life specialists, case managers and other professionals. TMC for Children is committed to providing exceptional health care with compassion to Southern Arizona's kids.
Below you will find a short video about the Event and a link to purchase either Sponsorships, Event Tickets or Raffle Tickets. Please use the drop down box and select Don Coleman as the referring Centurion
News Release - June 18, 2017 (Mayfield Florist hires Flyline Search Marketing)
Don Coleman, owner of Mayfield Florist, announced today that his flower shop has signed a contract to bring in Flyline Search Marketing. He was quoted as saying, "We are extremely excited about the opportunity to work with Flyline Search Marketing. They have such a great reputation in the marketing arena. We know many of the flower shop owners that use Flyline and all are outpacing the rest of the floral industry in terms of financial results. We look forward to building a great, long term relationship with Mark Lein and his talented team."
Mark Lein, CEO of Flyline Search Marketing was quoted as saying "We are excited about the opportunity to serve the Coleman family and their firm, Mayfield Flowers. We see Mayfield Florist as a great fit with the other flower shop owners already in our group. No doubt, they will all be excited to know that Mayfield Florist has chosen Flyline to serve. We will do everything possible to exceed Mayfield Florists expectations. Our goal will be to deliver tremendous success for the Coleman family and to earn their trust, respect and friendship during the process."
Local Flower Shops
Stop in and visit one of our locations listed below: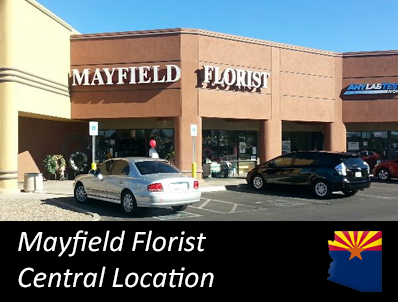 Central Flower Shop
(520) 327-3987
1610 North Tucson Blvd
Tucson, AZ 85716
Get Directions »
Eastside / Foothills Flower Shop
(520) 202-9410
7181 Tanque Verde
Tucson, AZ 85715
Get Directions »