Carondelet St Marys Hospital
Carondelet St. Mary's Hospital Flower Delivery
Same Day & Express Get Well Flower, Plant & Gift Delivery
Mayfield Florist offers same day flower, plant and gift delivery to Carondelet St. Mary's Hospital. We also offer a special cupid's express, rush flower delivery service as well. Express delivery is really a popular option for customers wanting to get flowers, a plant or gift delivered to Carondelet St. Mary's Hospital.
The Carondelet St. Mary's Hospital is one of the premier medical facilities in Tucson Arizona. It is believed that Carondelet St. Mary's Hospital may be the longest operating hospital in Tucson. They were formed around 1880. Impressive that they are still providing great service for Tucson residents 137 years later. The incredible folks at Carondelet St. Mary's provide a wide array of medical services and are one of the preferred hospitals for many folks living in and around the greater Tucson area. They have one of the best cardiac departments in the city and also provide excellent treatment options for people suffering from cancer and other diseases.
Same Day & Express Flower Delivery Service
Mayfield Florist offers same day and express flower delivery service to Carondelet St. Mary's Hospital. Our delivery staff generally make several runs per day, to the medical center. We have years of experience in delivering to the hospital and known all the special requirements necessary to successfully accomplish our mission to deliver your get well flowers, plant or gift. One of the most popular delivery options for folks using our get well flower delivery service is our express delivery feature. We can normally get your flowers, plant or gift delivered in 4 hours of less. Express service works well when you have a specific date and time requirement, for the delivery.
Get Well Flowers
Mayfield Florist offers the best selection of Get Well Flowers in town. We have beautiful sunflowers, gerbera daisies, roses and more. There are lots of great options, in all price ranges. The most popular arrangements for hospital and get well flower delivery tend to be bright and cheery style designs.
Get Well Plants
Mayfield Florist offers a wonderful selection of Get Well Plants. We have an extensive collection of beautiful live green and flowering plants. If you would like a dish garden, we have a number of great options for you. One of the most popular plants lately are succulents. They really fit the Southwestern theme of Tucson and make great gifts for many occasions. A succulent plant will provide many months of enjoyment for the recipient.
Get Well Gifts
In addition to all the gorgeous flower and plant options we offer, we also carry get well gifts that are themed for delivery to the home or to the hospital room. We sell delicious gourmet gift baskets, teddy bears, get well balloons and more.
Local Same Day & Express Get Well Flower Delivery | Nationwide Same Day Delivery
Local Flower Shops
Stop in and visit one of our locations listed below: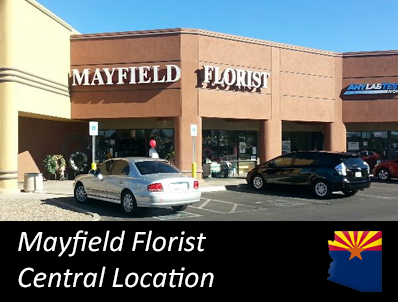 Central Flower Shop
(520) 327-3987
1610 North Tucson Blvd
Tucson, AZ 85716
Get Directions »
Eastside / Foothills Flower Shop
(520) 202-9410
7181 Tanque Verde
Tucson, AZ 85715
Get Directions »