Oro Valley Florist - Flower Delivery to Oro Valley
Florist Oro Valley AZ
Voted Best Florist In Tucson
Mayfield Florist offers the finest, freshest, highest quality floral products to customers in Oro Valley, Arizona. In 1982, Patsy Coleman started Mayfield Florist. Today, Mayfield Florist is run by sons Don and Greg Coleman. We are honored to have been voted Best Florist in Tucson on numerous occasions. We offer fabulous farm direct roses, orchids and many other fresh flower varieties. Our shops are also filled with gorgeous live green plants, flowering and succulent plants. We also offer gifts, themed for all occasions. We employ one of the most talented floral design staffs in Arizona. They are known for producing luxurious, upscale floral designs. The delivery staff at Mayfield Florist makes daily delivery runs to all Tucson and Casas Adobes area hospitals, churches, funeral homes and mortuaries.
Local Same Day & Express Delivery | Nationwide Same Day Flower Delivery
Additional Information for Oro Valley
For additional details about our same day flower delivery service to Oro Valley and to view bestsellers for Oro Valley, please take a moment to visit our Oro Valley delivery page.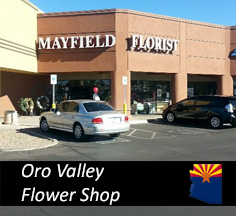 Serving Oro Valley
Oro Valley Flower Delivery Options
We offer same-day delivery of fresh flowers, roses, planters, cookies, and occasion flowers. Learn more about our Oro Valley flower delivery options.
Oro Valley Neighbors
Casas Adobes
Catalina
Catalina Foothills
Drexel Heights
Green Valley
Marana
Rita Ranch
Saddlebrooke
Sahuarita
Tanque Verde
Tucson
Vail