Drexel Heights Florist - Flower Delivery to Drexel Heights
Florist Drexel Heights Arizona
Unique, Artistic Floral Designs
Mayfield Florist offers fresh, high quality floral products. We serve the greater Tucson area, including Drexel Heights. Our Ecuadorian roses are simply stunning. We are a second generation, family owned and operated floral design firm. We provide flowers for all occasions. Our wedding and event flowers are simply breathtaking. We employ a very talented team of floral designers. They create some of the most luxurious, upscale flower arrangements you can imagine. The delivery staff at Mayfield Florist is second to none. They make daily delivery runs to all Tucson area hospitals, churches, funeral homes and mortuaries.
Local Same Day & Express Delivery | Nationwide Same Day Flower Delivery
Additional Information for Drexel Heights
For additional details about our same day flower delivery service to Drexel Heights and to view bestsellers for Drexel Heights, please take a moment to visit our Drexel Heights delivery page.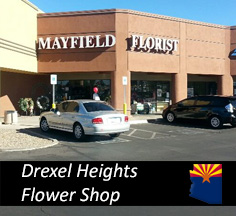 Serving Drexel Heights
Drexel Heights Flower Delivery Options
We offer same-day delivery of fresh flowers, roses, planters, cookies, and occasion flowers. Learn more about our Drexel Heights flower delivery options.
Drexel Heights Neighbors
Casas Adobes
Catalina
Catalina Foothills
Green Valley
Marana
Oro Valley
Rita Ranch
Saddlebrooke
Sahuarita
Tanque Verde
Tucson
Vail